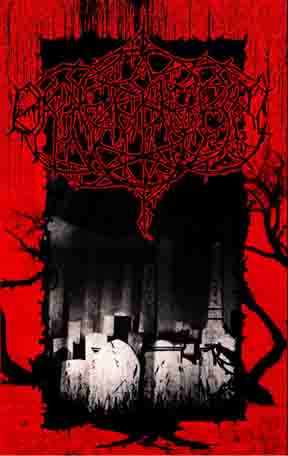 I was on my way out the door one early winter morning in freezing Denmark. I got in the car to go to work on the hitherto coldest and snowiest morning this year, and like so many times before I was going over my CDs to find a couple to bring on the trip. I was going to go with some Entombed and Darkthrone, feeling like listening to some old school stuff, but then I found Okketaehm's promo "Stones" from Contaminated Tones Productions and thought I might aswell give a listen on the way to work. Though the total play-time of Stones is a mere 18 minutes of grey, wintry, space-like ambience and raw black metal the demo never left the car's CD player even though the trip is almost 40 minutes each way.
It was early, the climate was frosty and the road to work was long. Having only ingested some toast and a cup of luke-warm coffee I wasn't much in the mood for anything as I began my journey through the soundscapes of Okketaehm. The music that met me through the speakers was well befitting of the desolate roads. Stones consists of various parts of icy black metal, dark ambience and something that borderlines white noise mixed into one long track of 18 minutes, and all these parts in conjunction with masterful production lead my mind to things like the vast emptiness of space, void-like depression and mist-veiled frostscapes. Characteristics I normally attribue to bands like Darkspace, Ash Borer and Paysage d'Hiver. I admit I at this point wasn't much focused on my driving.
Let's not kid ourselves, ofcourse Okketaehm isn't perfect or innovating, but it sure as hell did make my drive to- and from work a lot more enjoyable. Okketaehm provides incredibly accurate atmospheres, and while you at times wonder wether the music is still on or someone is just vacuumcleaning in a nearby room it simply adds to the enormous impact the half-melodic black metal pieces of Stones presents. 8/10 guitars.
Tracklist:
1. Stones
Contaminated Tones Productions official site