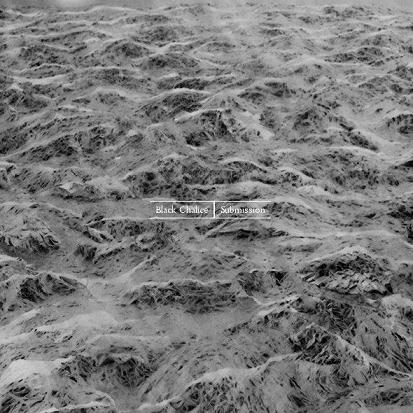 Black Chalice. The name reeks of dying, depression and burdening, imposing matters. Black Chalice is the name belonging to an American one-man black/death/doom metal band, a band that I have been acquainted with for some time now.
With Submission Black Chalice are trying out a new approach with the album intro "Deluge", which features something very atypical for the band. Normally it's straight on and forward with chaotic, gritty guitars groaning under the stress of the player's hand, but Deluge is all about flowing acoustic guitars, thusly building an atmosphere not nearly as raw as on the prior demo material of Black Chalice. While the sound of Black Chalice hasn't changed much Hasson's approach to songwriting has changed a lot since the beginning back in 2011. On Submission he favours more melodic riffs and dredging speeds rather than the fast, unvaried drum-powered tremolo-riffs on the early demos. A change that I for one am happy to hear as it provides the music with a whole new level of detail to peak the listener's interest.
In context with the acoustic intro the last song on the demo, Submission, also starts out with simple acoustic playing that puts you into a false sense of comfort until it slowly fades into the raw guitar-dominated soundscape that I've come to link with Black Chalice. A thing that especially struck me on Submission is the accustomed use of layers that wasn't present on the earlier material. This is evident in all the tracks but in my eyes works best on the track Regret where weeping guitars provide a nice contrast to the groaning and coarse string-play of Patrick Hasson. Another thing that makes Submission stand out compared to Hasson's earlier releases is that the drums and rhythm section in general have been severely downplayed; Where monotonous drumming dominated the early demos, drowning out most of the other parts of the music, on this demo it's much easier to hear the details in Black Chalice's music.
The music of Black Chalice could always be best described as "discordant" and "rough around the edges", and while the previous releases also seemed rather unrefined the same things go for Submission. But Hasson has found a more suiting focus for the band which makes the album a much more interesting and welcome experience than Years of Flame and Prayers for Our Lord and Saviour. Though all the releases are very organic in their sound and composition Submission is by far the least mechanical-sounding, and even though Hasson's chosen style of black- and death-infused doom metal mostly focusses on depressive themes and desolate soundscapes he has still found room for epic compositions and gloriously melodic parts. 7/10 guitars.
Tracklist:
1. Deluge
2. Regret
3. Cornea
4. Submission
BLACK CHALICE on Bandcamp
BLACK CHALICE on Facebook
Contaminated Tones Productions